What's New?
2017 LeQuire/Luquire Reunion
July 15, 2017
PLACE: Morgan Pavilion, Bryson City, NC (West Deep Creek Road) -- This is the same location as the 2014 reunion.
TIME: 10:00 A.M. to late afternoon
We are excited about the event and hope you can attend. Learn the latest about the LeQuire/Luquire DNA project. If you have family photos, history, or other items of interest, please bring and share!
Please bring a sack lunch and cold drink. (No alcohol please.)
Also, there are many restaurants and fast food places to eat.
Find Your WNC Roots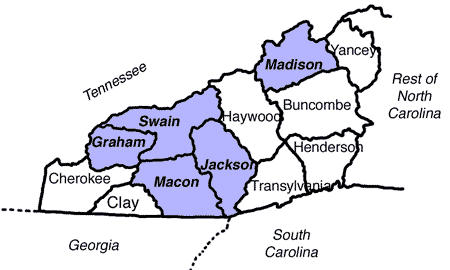 Our research emphasizes the WNC counties highlighted in blue.
If any of your ancestors lived here, we may be able to help you research your family history.
We have published over 33,000 50,000 52,000 records on these counties. And over 3600 3700 4700 surnames.
And more are on the way!
Customers in Most States
We have shipped to individuals and/or libraries in the states marked in blue - 29 states and the District of Columbia.
We want to "color in the map"!